Heart warming place, OJIRO
 OJIRO -Hyogo-Kami cho- 
 A beautiful village
Kami-cho is located in Tajima in the northern part of Hyogo prefecture is surrounded by mountains and terraced rice-fields.
 The name,  "Ojiro", derives from (小代) which translates to "the small rice-fields".
Ojiro town used to be called Mikata town until March 2005 when it was merged with Kasumi and Muraoka towns.
"Ojiro-dani", the valley in the town, which formed the Yatagawa river running from the middle of the city to the Northern area, was featured as "One town, one valley", which means one valley is entirely in one town. " And thanks to this geological feature; the Japanese cattle breeding has been making great progress. 
And now, let's explore Ojiro!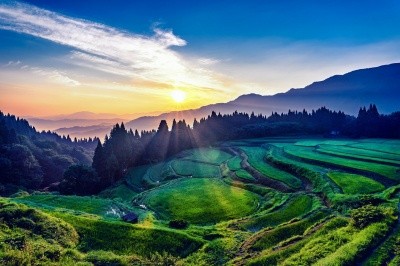 Kami-cho, Ojiro "The Most Beautiful Villages in Japan".
Ojiro: Japanese Wagyu and Mikata-Zankoku Marathon
Ojiro has organized a lot of activities to help maintain its landscapes, environments and culture for the future generations: The Japanese Wagyu and Mikata-Zankoku(challenging) Marathon, organized by the local community, is one of it's few activities that has led Ojiro to be recognized as one of "the beautiful villages in Japan" by NPO, a non profit organization which protects the landscapes, environments and cultures in the farm and mountain villages in Japan and has certified Ojiro since October 2012.
Ojiro is deeply committed to preserving and protecting these treasures for the future and holds them in high regard.
The Origin of Japanese beef
Tajiri-go: the origin of Japanese Beef
Tajiro-go was born at the house of Tajiri Matsuzo, the owner of Tajiri's mother, "Fukue".

Tajiri-go bred about 1500 cattle during 13 years, and they and their descendants were taken to the localities of Japanese Beef such as Miyazaki, Hida, Matsuzaka, and Yonezawa and improved the quality of Japanese Beef. According to research by the Japan Wagyu Registry Association in February 2012, 99.9% of the Japanese Beef in Ojiro is the descendant of Tajiri-go.

99.9% of all Japanese mother Beef is under the family line of " Tajiri-go", which is called " the legend of Japanese Beef".

Matsuzo was awarded the great prize in 1926 by the Japanese government in recognition of his success in producing Tajiri-go ".
Ojiro Guide Club
Ojiro Guide Club was organized by the local people. They cooperate with the local stock farmers to introduce the attractions in the most beautiful village in Japan, Ojiro, for the purposes of having visitors know the root of the origin of Japanese Beef, Tajima Beef. They hold tours, take seminars about how to host international visitors regularly, and advertise Ojiro to increase the number of Ojiro supporters. Getting involved with many people, they feel the deep Ojiro.
★You need to make a reservation in advance.
Explore Ojiro on an EV bike
"Ojiro Petitabi" is a leisurely tour of Ojiro, Kami-cho, which is a member of the "Japan's Most Beautiful Villages" alliance, on an electric bike (EV bike). While enjoying the beautiful scenery of the Mountain Rice Terraces, which has been certified as one of Japan's top 100 rice terraces, and the Kaname Falls of the Kusube Valley, you will also be able to see the cowshed where Tajima beef is raised, the Ojiro specialty soft-shelled turtle farm and the area. The attraction is that you can stop for the life of Ojiro. Twisty roads and slopes are easy! Let's go on a new journey of exploration!
Mikata-Zankoku Marathon
Mikata-Zankoku MarathonMarathon National Convention
Date: 2nd Sunday of June
Start and Goal: From around Saneyama to the surroundings of Ojiro Junior High School
The Mikata-Zankoku Marathon Tournament is a yearly tournament held in June in Ojiro. Participants make up twice the total population of Ojiro and come from all over the country. All of them gather to take on the challenge and dominate the courses with significant elevation differences. This challenge would not be so impressive without the warm and welcoming support of the local residents of that region. This event is organized with the collaboration of many volunteers, including high school and junior high school students, all of them cheering for the participants as well. This is a big challenge for a small village, but it's run every year with a huge success. Recently, the number of participants has kept on increasing, making it more and more famous every year. You can experience a lot of rewarding and soul-stirring moments.
Join the events and feel Ojiro!

Variety of unique and traditional events are held in many areas of Ojiro, such as bon-dance festivals, autumn festivals in many areas, "Dainichi-san festival" to pray the health of cattle once a year. They are keys to know about Ojiro deeply and understand its life. So please join them!
There are some seasonal events, in the season of fresh green "Ojiro Keikoku Festival," in the season of autumn leaves "Ojiro Marche."
There are some special winter events for snow area such as snowball fight festival convention, snow festival. Let's enjoy rich nature together!
Column
Ojiro Event Information
Let's enjoy rich nature together!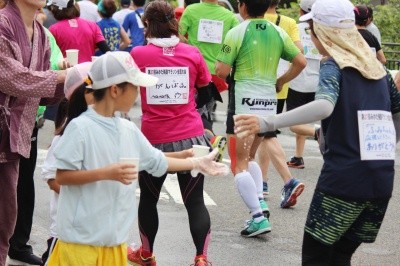 Tourist Hot spot!!
We'll introduce of Ojiro! Let's look at this Ojiro!
Ojiro Gourmet
Local specialties for a good energy recharge
TAJIMA Beef
TAJIMA cattle, the origin of popular Japanese beef such as Kobe Beef, Sanda Beef, and Awaji Beef, comes from Ojiro. The cattle, tajiri-go, is originated from the bloodline of TAJIMA, which is called "Atutazuru'', and has been protected without crossbreeding with other types of cattles. 99% of the female cattle from Kuroge beef is descendant of Tajiri-go, according to the Japanese Black domestic breed of Wagyu cattle by Wagyu Registry Association. Tajima beef has a good quality, which is why Matsuzaka beef and Oumi beef are made based on the breeding of Tajima beef. Here is the home of Tajima beef. Let's enjoy the taste at the guesthouses and restaurants of Ojiro.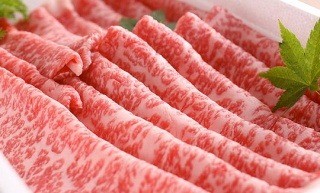 Soft-shelled turtles
"We need a special product!". That was the idea some people had 40 years ago. Eight people started cultivation of soft-shelled turtles with the desire to revitalize the town.Now, more and more tourists are coming to Ojiro because the taste of turtles is amazingly good, which made Ojiro famous for soft-shelled turtles. Some people say, and other people say, "The chewy turtles with fatty texture hit the spot!", "The taste is addictive!". The soft-shelled turtles are grown in a rich natural environment using hot spring water at an appropriate temperature and each restaurant takes the time and effort to prepare them deliciously.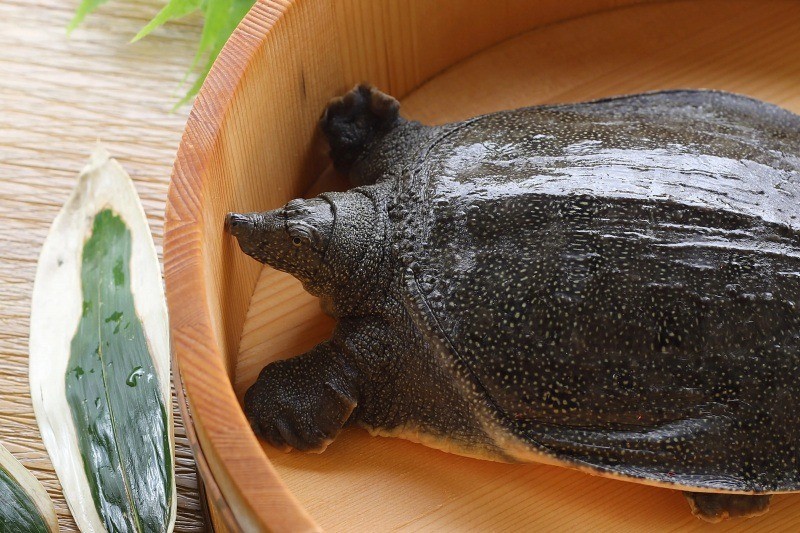 Sturgeon
In fact, Ojiro is home to the only sturgeon farm in Hyogo Prefecture. Although its name comes from its resemblance to a shark, it is a freshwater fish.Sturgeon is highly nutritious and has a pufferfish-like texture when eaten raw. The caviar, which comes from the sturgeon, tastes fresh and rich. It takes three years to get edible sturgeons and eight years to be able to harvest caviar. We highly recommend you to try this luxurious gem grown with love and passion!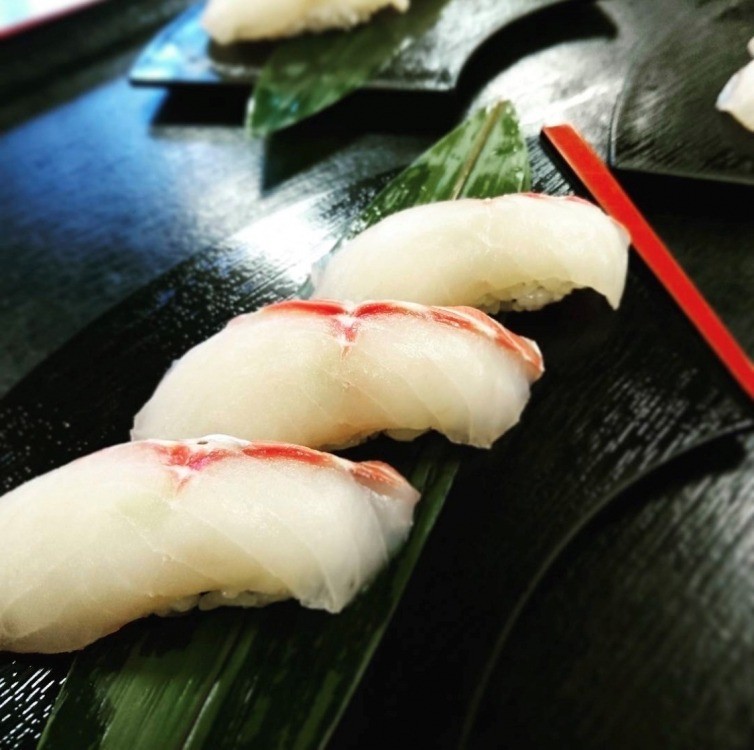 Acommodations in Ojiro
Column
Acommodation Information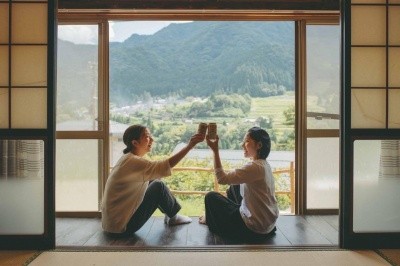 Access
Access by car
■ From Kyoto/Osaka/Kobe: about 2 hours 45 minutes
【Access 1】
Enter: MAIZURU-WAKASA EXPRESSWAY "Kasuga interchange"
Leave: KITAKINKI-TOYOOKA EXPRESSWAY "Yatsushika-Hyounosen interchange"
After: About 45 min. drive to the direction of Tottori. Turn left at signal "OJIRO-GUCHI"
【Access 2】
Enter: CHUGOKU EXPRESSWAY "Hukusaki interchange"
Pass: BANTAN highway
Leave: KITAKINKI-TOYOOKA EXPRESSWAY "Yatsushika-Hyounosen interchange"
After: About 45 min. drive on R9 to the direction of Tottori. Turn left at signal "OJIRO-GUCHI"
■ From Tottori: about 1 hour
Drive on R9 to the direction of Kyoto. Turn right at signal "OJIRO-GUCHI"
■ From Okayama: about 3 hours
Enter: SANYO EXPRESSWAY "Himeji-higashi interchange"
Pass: BANTAN highway
Leave: KITAKINKI-TOYOOKA EXPRESSWAY "Yatsushika-Hyounosen interchange"
After: About 45 min. drive on R9 to the direction of Tottori. Turn left at signal "OJIRO-GUCHI"
Access by train
Get on: JR/ Kyoto sta. (SAN'IN-line)
Get off: Yoka sta.
Get on: ZENTAN-BUS/ one of the No.15 bus, go to Akioka
Get off: the last stop; Akioka (*Bus takes about 1 hour to Akioka.)
*The time of transportation and fares can be changed, so please check them by yourself.
Nearest International airport is Kansai International Airport (KIX).
It is located in the Osaka prefecture.
You need to arrive at the airport by 8:00AM on 4th September.
A-1) From Kansai International airport to JR Osaka station by train.
Departure time is 10:39 from Kansai International Airport by Nankai Airport rapid line bound for Nankai Nanba station.
Arrival time is 11:21 at Shin-Imamiya station (Nankai line).
You have to change from the Nankai line to the JR line.
Don't worry, you can find signboards on how to take the JR line in the station.
A-2) From Shin-Imamiya station to JR Osaka station by loop line.
Departure time is 11:28 from JR Shin-Imamiya station.
Arrival time is 11:43 at JR Osaka station.
A-3) From JR Osaka station to Hankyu-Umeda Sanbangai by foot.
Please check below the link.
B) From Osaka station to Muraoka bus stop by Highway bus (Zentan bus).
<Time>
Departure time is 12:30 from Osaka Umeda Hankyu Sanbangai bus terminal.
※Please come to until 12:20 there.
Arrival time is 14:59 at Muraoka bus stop.
<Price>
4,100 JPY
<Booking>
Here is the website of the bus to go to "Osaka → Muraoka bus stop".
It is better to book it before getting on the bus.
※Before book, you need to log in Willer bus company.
※You can pay it by a credit card